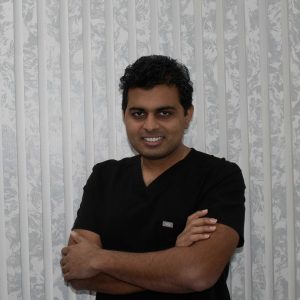 As a dentist, I have always been passionate about helping people achieve optimal oral health and a beautiful smile. My name is Dr. Pratik Patel, and I have been practicing dentistry for over a decade. I was born in India, where I practiced as a general dentist for four years before moving to the United States to attend Nova Southeastern University for dental schooling. Since 2018, I have been practicing in Florida, where I have had the opportunity to work with a diverse group of patients and provide them with personalized dental care. In addition to my work as a dentist, I enjoy playing tennis and pickleball, as well as spending time with my family. I believe that dentistry is not just about fixing teeth, but also about building relationships with my patients and helping them achieve their dental goals. It is a rewarding experience to see the positive impact that my work has on my patients' lives. I take pride in providing high-quality dental care and ensuring that my patients feel comfortable and at ease during their visits and make a difference in people's lives.
Meet Our Team
The team at Weston Family Dental Center is here to help our dentist and orthodontist deliver the care your smile deserves. Our team members have years of experience to provide you the treatments you need in a welcoming and friendly atmosphere, and we offer many financial options, such as Medicare, to help you get high-quality care. You can meet each of our team members below, and they will be happy to talk with you when you call 954-385-9240 for your dental appointment in Weston, Florida.
Check back soon to meet our team.
Office Tour